Description
Product Details:
Foot care sheet that makes sleek and clean feet with the effect of removing keratin, relaxing the foot odour and others by wearing it.

How to use:
1. Slip on foot sheets. (Each sheet is double layered)
2. Cut along enclosed pouch's dotted line and pour contents into foot sheet.
3. Wait 1~1 hour 30 minutes after wearing sheet for solution to absorb into skin.
4. After a certain amount of time, take sheet off, wash off remaining solution and dry feet thoroughly.
5. After 4~6 days, the dead skin cells will naturally peel off. Do not peel with hands.
6. Wait 2 weeks until dead skin cells completely peel off for smooth and clean feet.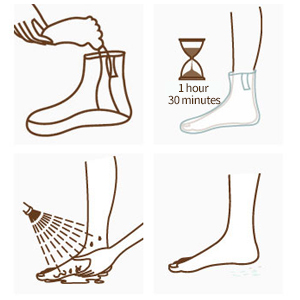 Caution
1. For external use only.
2. Avoid contact with eyes.
3. Keep out of reach of children.
4. Discontinue use if signs of irritation and/or rash appea