Description
======== MEDIHEAL Paraffin Foot Mask 18ml ========
FeatureOne step foot mask to provide abundant nutrients to your feet.Containing paraffin and urea, it provides moisture and nutrients to your dry skin.Sock type envelope the whole foot, so control the foot and healthy toenail.
— Feet Mask that is beneficial for extremely dry and rough feet with thickened skin and cracked heels
— Intensive treatment mask is a good spa alternative that leaves your feet moisturized and nourished
— Paraffin, Urea, Shea Butter extracts : spa treatment alternative that improves skin elasticity leaving your feet moisturized
— Urea extract helps to exfoliate dead skin cells
— Corn Mint extract Ginseng extract helps to relax foot tension and treat foot fatigue
How to use:
1. Clean your feet with lukewarm water and remove any water.
2. Divide the foot mask into two pieces according to the perforation line, and wear a nonwoven fabric moistened with a nutrient solution.
3. Please massage to absorb the contents after wearing.
4. After about 15 ~ 20 minutes, remove the foot mask and gently tap the remaining essence to absorb.
(You do not need to wash your feet.)
5. It is best to use 2 or 3 times a week for 4 weeks consecutively considering 4-week skin turnover cycle.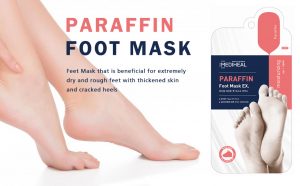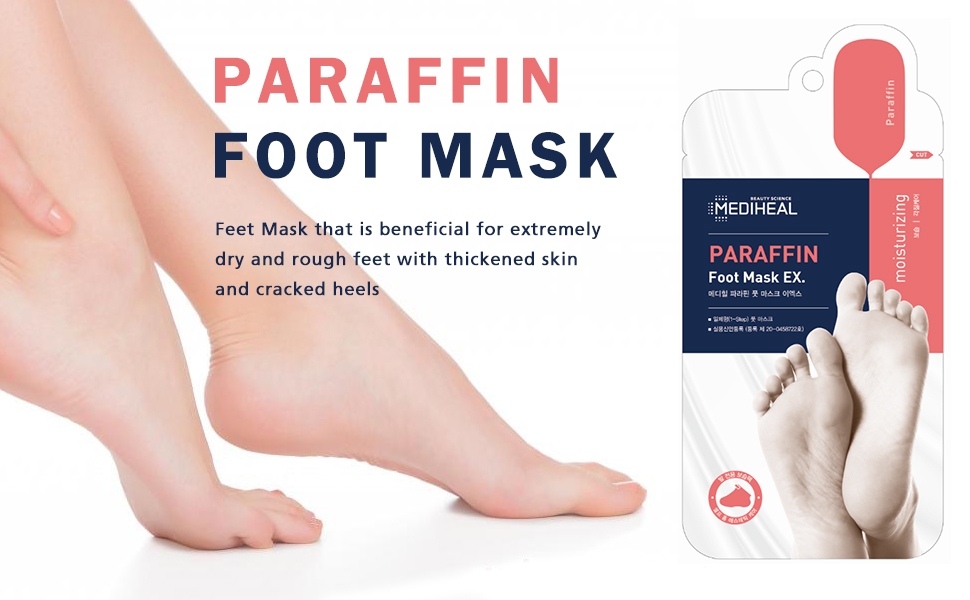 New Packaging: