Description
The Zensah Ankle Brace will help provide the ankle support you need for ankle injuries. The ankle sleeve is a breathable, lightweight ankle support for minor ankle sprains with targeted compression, which will help reduce swelling and provide support during recovery.
FEATURES
Breathable and lightweight moisture wicking and anti-odor fabric
Full range of motion
Seamless and flat cuff for superior comfort
3D Geo Tech Ribbing for active relief
Compression to reduce swelling and provide support
Sold as single unit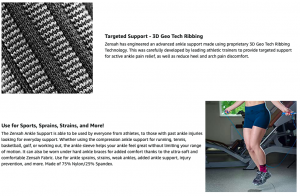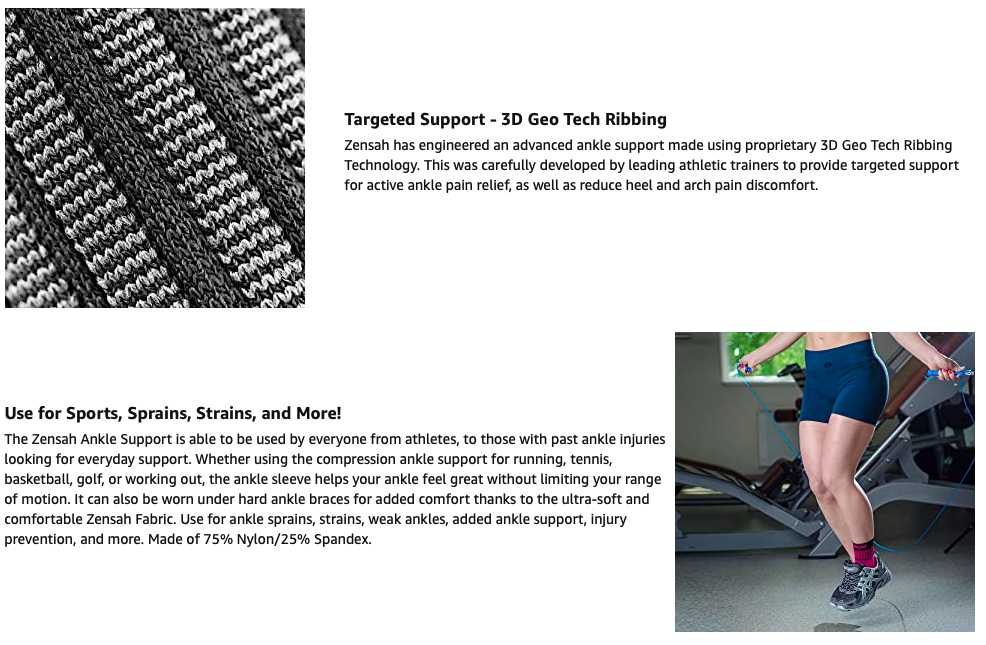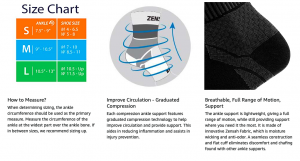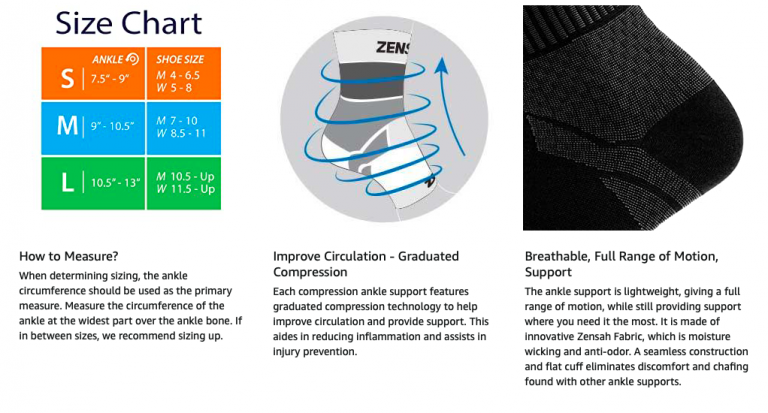 TARGETED COMPRESSION
Advanced Ankle Support: A U-shaped horseshoe design provides support in the ankle area without restricting motion. The ankle support features targeted compression to support the ankle area. The compression in the ankle support also improves circulation, reducing inflammation and expediting the healing process.
ULTRA-BREATHABLE AND MOISTURE WICKING
The Zensah Ankle Support is made of innovative Zensah fabric. The nylon and spandex blend means that it is not only lightweight and breathable, but also moisture wicking. The ankle support will stay dry even during the toughest workouts. Whether using the ankle support during a long run or just while walking, the anti-odor features of the sleeve prevents odor, leaving feet feeling fresh.
RELIEVE PLANTAR FASCIITIS
The ankle support features compression on the bottom of the sleeve that helps to relive plantar fasciitis pain by compressing the plantar fascia ligament. Its thin design allows it to be worn all day or at night to help relieve plantar fasciitis pain.
FITS COMFORTABLY UNDER SOCKS + FULL RANGE OF MOTION
The ankle support fits comfortably under running socks. Wear it with your favorite running shoes without effecting the fit of the sneakers. The ankle support is lightweight unlike traditional hard braces, as not to restrict motion. It's the best ankle brace for a sprained ankle, soccer, running, basketball, volleyball and other sports/activities.
HAVE A MORE SEVERE ANKLE INJURY?
Check out our Elite Gel Ankle Brace, which includes a removable strap, gel inserts, and provides even more ankle support.