Description
[ About the brand ]
On the surface, Injinji is a California-based toe sock company dedicated to the health and performance of feet. But deep down we are so much more. We are innovators, we are adventurers, we are lovers of all things active—most importantly, we are passionate about making the journey of life more comfortable.
Our patented, five-toe sock design helps enhance the freedom and natural function of your foot inside any shoe, which means less time worrying about discomfort and more time for your next adventure. Wherever you go, there's a toe sock to help you along the way.
[ Product Details ]
The Outdoor series was designed for running and hiking on rugged trails in unpredictable weather. Midweight cushioning adds comfort to every stride and a breathable mesh knit at the top of the foot provides added ventilation. The mini-crew height sits above the ankle, sealing out trail debris. By pairing the natural advantages of Merino wool with the trusted benefits of Injinji toesocks, the Outdoor socks are more comfortable and functional than ever before.
[ Product Features & Benefits ]
Supportive band that offers a secure and stable fit.
With each toe protected, skin-on-skin friction is completely eliminated protecting your foot from blisters & just as important, hotspots.
Each toe is wrapped in sweat-wicking material so your foot will be drier and therefore more comfortable than in traditional socks.
When your toes are separated, properly aligned, and splayed it distributes your weight evenly which allows your entire foot to be engaged in any athletic activity.
Provides maximum breathability and ventilation on the top of the foot.
Fiber content: 33% CoolMax EcoMade® 64% Nylon, 3% Lycra®
Merino Wool naturally resists odor-causing bacteria by absorbing and expelling moisture.
Merino Wool fibers are inherently renewable and biodegradable.
Merino Wool helps block harmful UV rays.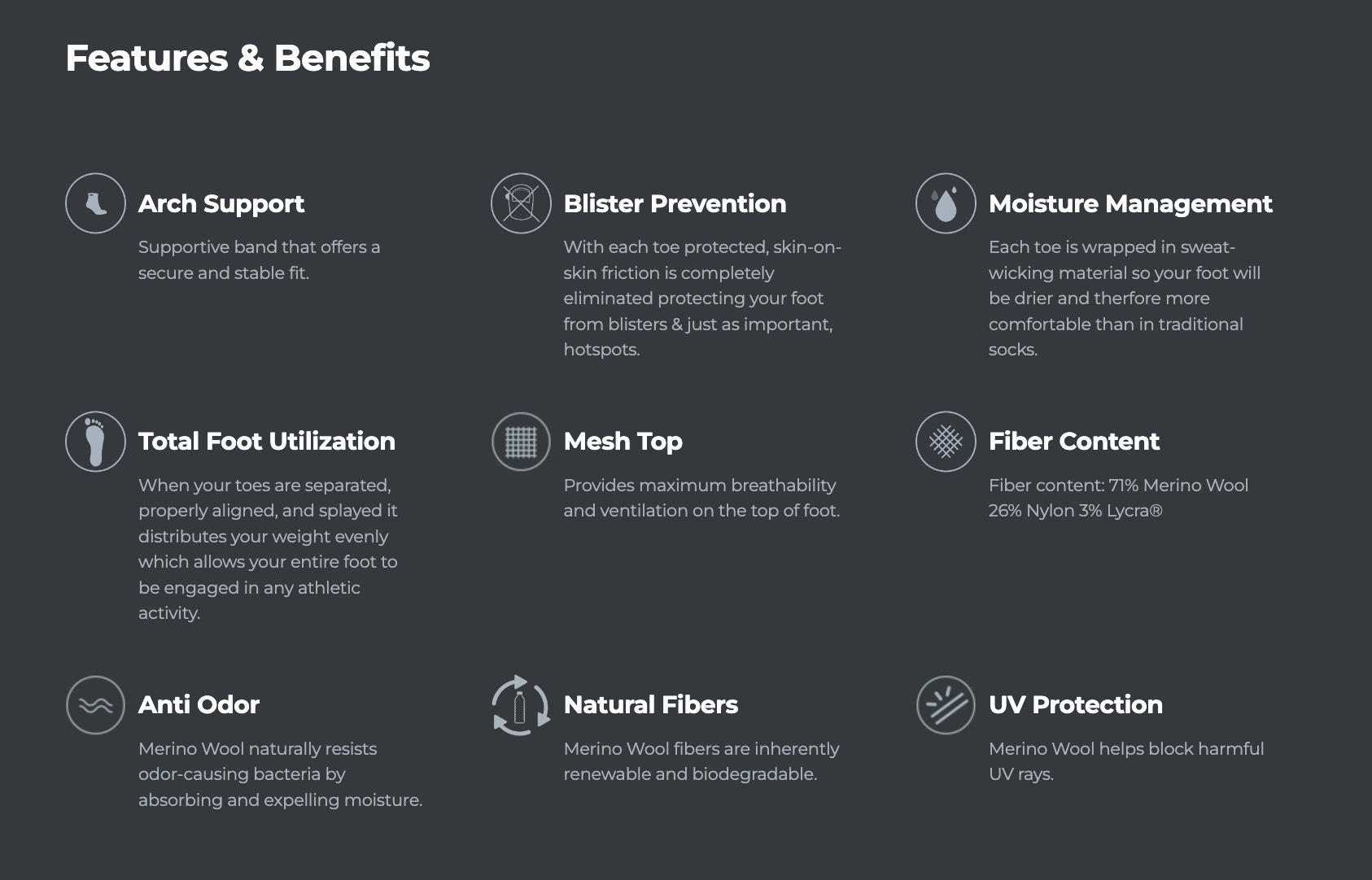 [ Wash & Care ]
Are your Injinji's dirty after a grueling run through the mud? It's time to wash them! To extend the life of your socks, we recommend washing all Injinji socks on delicate with cold water, followed by line drying.