Description
Before ordering, use this size chart for accurate fit. (US SIZE)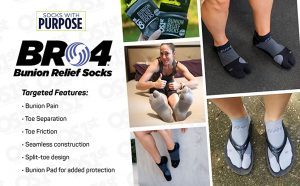 Targeted Conditions:
Bunion Pain
Toe Separation
Toe Friction
Performance Features:
Anatomical left and the right design for a perfect fit
Seamless comfort and construction
Patent-pending "split-toe" design for separation
Extra padding for added protection
Y-Gore heel for anatomical shape
Moisture management
360-degree blister protection
Product Detail:
4 ZONES OF GRADUATED COMPRESSION
The BR4 Bunion Relief Socks form-fit to your foot. With four zones of graduated compression, the split-toe design and targeted bunion pad, the BR4 provides effective pain and bunion relief. The BR4 is comfortable enough to wear any time. You will find the bunion sock works well as an alternative to toe spacers and bunion pads that can limit movements and interfere with shoe fit.
Supports the arch & overall foot structure; protective, supportive, and comfortable split-toe design makes this a go-to for relief and comfort during any activity.
FASTER RECOVERY
The BR4 not only provides additional padding to alleviate bunion pain, but its powerful support also promotes improved circulation to help control swelling and provide faster recovery. The BR4 is perfect for runners and other athletes, and everyday comfort. The BR4 Bunion Relief Socks are the perfect fit for your active lifestyle!
Wash Guide:
With proper care, hand washing, and air dry, OS1st products are made to provide lasting support for up to six months.
OS1st Bunion Relief Socks
0.00
Pros
Thanks for making my feet feel nearly normal again.
I Love these socks! Very comfortable for working 12 hour hospital shifts. Keeps my bunion from swelling and hurting.
Have tried everything ... toe socks, compression socks, and on and on. OrthoSleeve BR4 Bunion Relief Socks have been by far the most effective product I have ever tried. Never realized that having your large toe separated from your other 4 toes provides amazing balance and comfort. They do not "fix" my very bad foot but they do bring much needed relief when walking, better balance and I have noticed I do not need to use my splint on the bunion foot nearly as often AND my feet feel so much better at night.
When you are on your feet all day, this is a must have.Very comfy when I go walking or hiking & protects my feet from rubbing.
Perfect protection for athletes.I started having issues with a bunion on my left foot approximately 6 months ago, that has progressively gotten worse. It hurts to wear certain shoes and I have pain in my big toe after exercise and during sleeping. I actually purchased 2 different solutions for this issue. This one and another. The one that I thought would provide more relief, actually did not. The BR4 provides support and protection from shoe friction. I am an athlete, working out daily and these sleeves are comfortable to wear, allow me to get my complete workout in without pain and discomfort. They do require a little getting used to as the toes are typically used to working together, therefore my second toe does get tired. I would definitely recommend these to anyone having an issue with bunions and definitely for those who are athletic and/or very active.