They say that clothes make the man, or woman, as it were. Your shoes are like the icing on the cake, and can make or break an outfit — but they can also make or break your day. If you've ever had blisters from shoes that didn't fit properly, or shoe insoles that cause all kinds of foot pain, you'll know what we mean.
Although looking good does come with a measure of discomfort, it shouldn't come at the cost of the health of your feet. This is because wearing tight shoes like high-heels can worsen foot conditions such as bunions.
Why are good shoes, shoe insoles, and feet care products important?
Your legs and feet are, quite literally, the pillars of support for your day to day living. You walk, run, climb 4 flights of stairs because the lift broke down again, and chase after the bus with them.
Good strong pillars need the right foundation, and that extends beyond just making sure your footwear looks good on you — it has to support you too.
Wearing shoes that don't fit right or pinch your toes can lead to a whole bunch of problems in the future — like bunions, calluses, blisters, and even joint inflammation.
1. Prevent back problems
Walking puts a surprising amount of force on your feet — up to 5 times your body weight per foot.
If this force isn't properly absorbed and redistributed, you can end up developing problems in other parts of your body, such as your spine. When your feet roll inward or outwards too much, this puts extra stress on the leg muscles, causing your knees, hip, and lower back to be improperly aligned when you walk.
Shoes with adequate cushioning and support help reduce the impact on the body, and can also help correct your posture. This reduces stress on your spine and hip.
2. Protect your joints
The knee is the largest joint in your body, and is the recipient of a good amount of impact from your daily activities. Wearing supportive and comfortable footwear helps take the pressure off your knees by making sure your legs stay aligned.
If you do sports, injuries related to the ankle joints are fairly common, and they put you out of commission for quite a long time. This is why it's important that you wear the right shoes for the right activity — for example, basketball shoes have extra thick soles and high tops to protect you from ankle and foot injuries that are caused by jumping.
Doing high-impact sports without proper footwear puts a lot of stress on your joints, and can result in permanent injuries if you're not careful.
Footwear, insoles, and products that can help foot condition
While you can self-diagnose what kind of foot problem you have and pick a piece of footwear based on that, it's recommended that you see our feet specialists for detailed diagnosis. In line with the stay-home measures, we have recently introduced virtual consultation. Our feet specialists can offer educated insights into your foot problems and help you out with footwear recommendations, all through a video call.

That said, if you're experiencing foot issues, you'll need to take extra note of the kind of footwear and feet care products you pick. Depending on the foot condition you have, you'll need a different type of footwear and products to support it. Here, we share some of the recommended shoes and products suitable for each condition.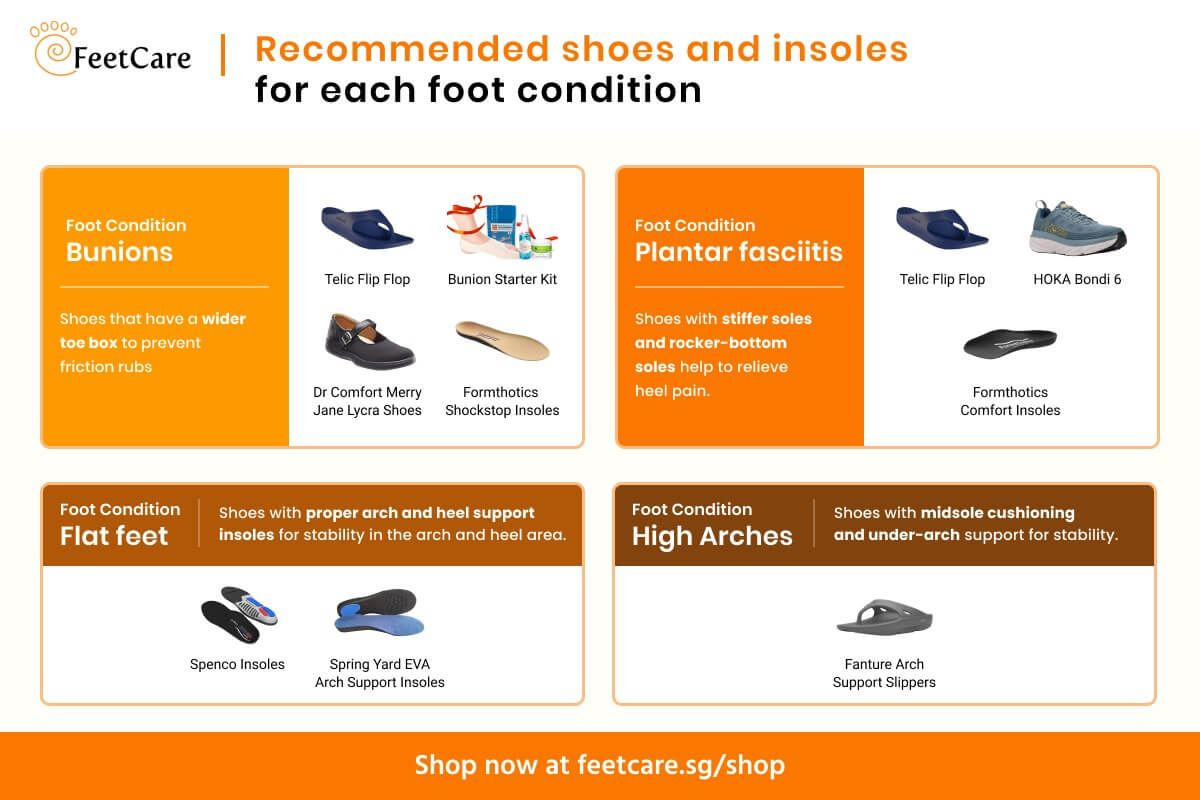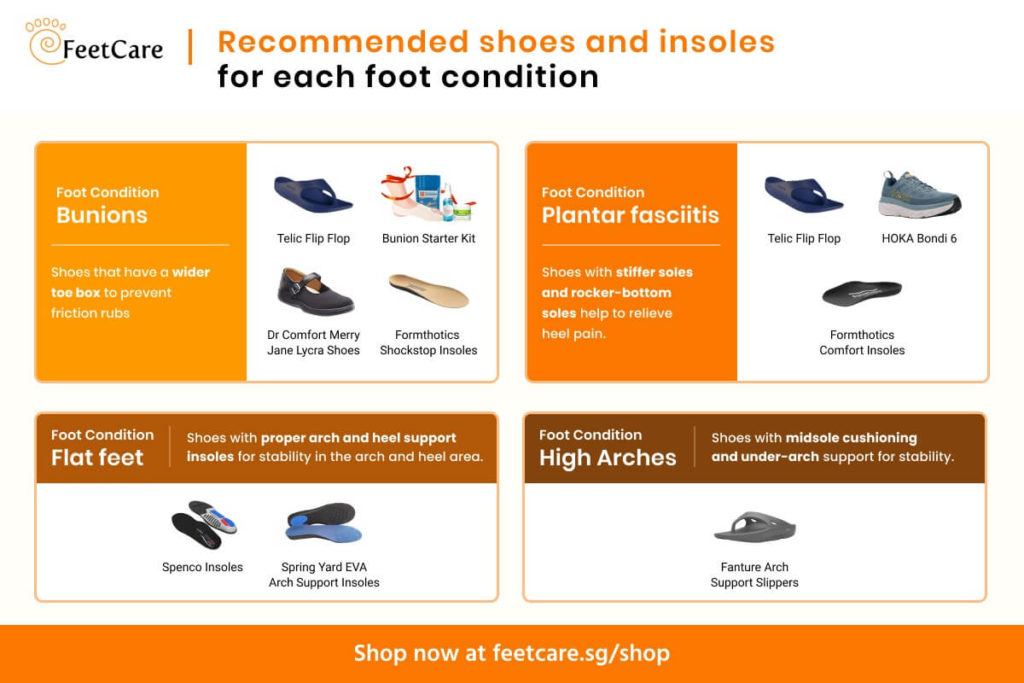 1. Bunions
Bunions form when the big toe joint that connects your big toe to the rest of your foot gets bent out of place, which causes a bony bump as well as pain, swelling, and redness. Bunions worsen over time, with the deformation progressively getting more and more extreme.
You'll want to get footwear that has a wider toe box that prevents friction rubs and gives your toes wiggle room.
Firm insoles with deeper heel cups will also help by keeping your feet properly aligned. Adding a cushion for the ball of your foot can also help relieve bunion pain. Ideally, your choice of footwear should also provide enough space for you to wear bunion socks or toe spacers.
Here's what we recommend for bunions: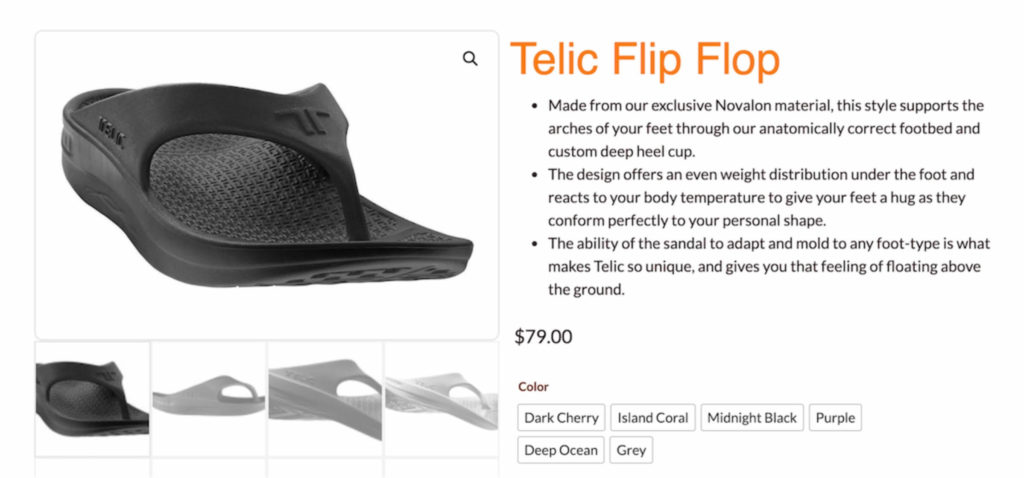 In serious bunion cases, toes overlay and the big toe joint protrudes out significantly, making it extremely painful to wear covered shoes. We recommend sticking with comfortable flip flops to allow your feet space to breathe.

Combining soft arch support and shock-absorbing material, Telic Flip Flop's contoured footbed distributes weight evenly under the foot. This provides noticeable pain relief and reduces discomfort naturally.
It's also abrasion-resistance and can conform perfectly to the shape of your foot for better support. Not only are these flip flops suitable for bunions, they are also common footwear recommended by podiatrists for foot conditions like flat feet, heel spurs, and plantar fasciitis.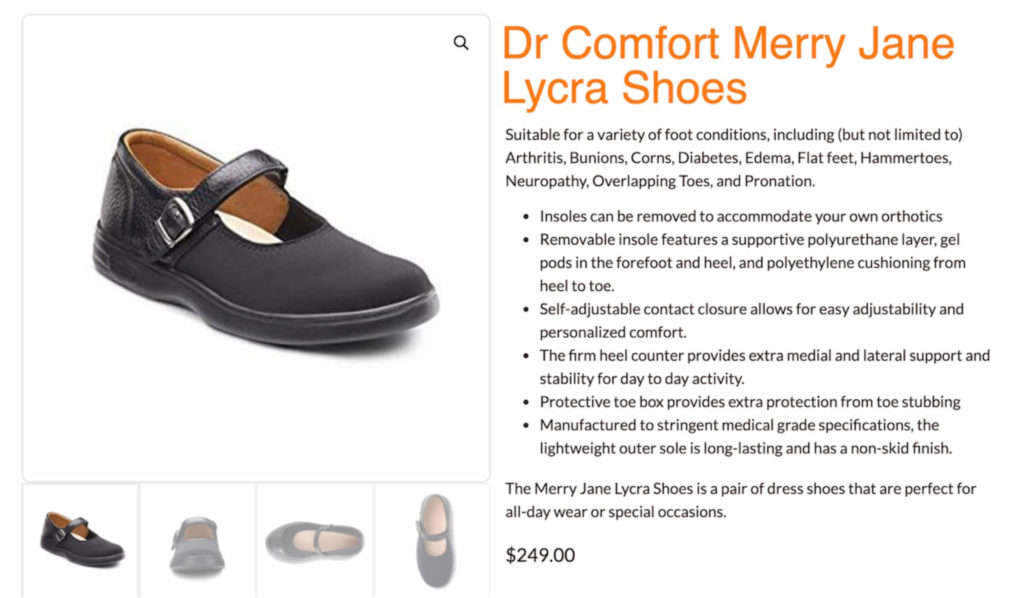 If your job requires you to wear covered shoes, you can try out Dr Comfort Merry Jane Lycra Shoes. The Dr Comfort shoe is suitable for varying foot conditions including bunions.
Standing or sitting for long hours can cause swollen feet. With its self-adjustable contact close strap, the Merry Jane Lycra can be adjusted to fit your comfort any time of the day, making it perfect for all-day wear.
Other unique features include removable shoe insoles to accommodate your own orthotics, firm heel counter that provides extra support and stability for your daily activities and a protective toe box for extra protection from toe stubbing.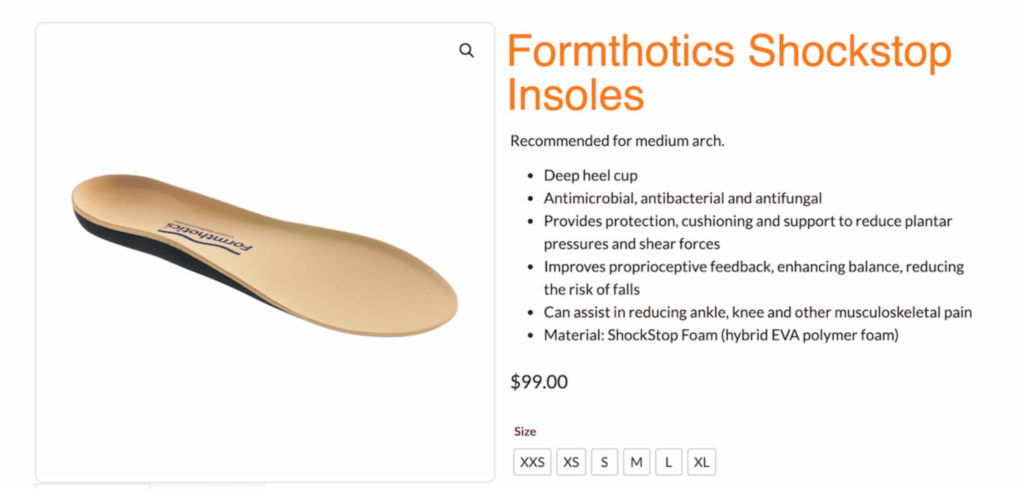 The Formthotics shockstop insoles are made of a hybrid EVA polymer foam for maximum shock absorption and cushioning. This minimises impact on your muscles, joints, and tendons. It also aids in overall balance, reducing the risk of falls and plantar pressures.
If you're experiencing ankle, knee, or other musculoskeletal pain, using an insole can help to ease the pain.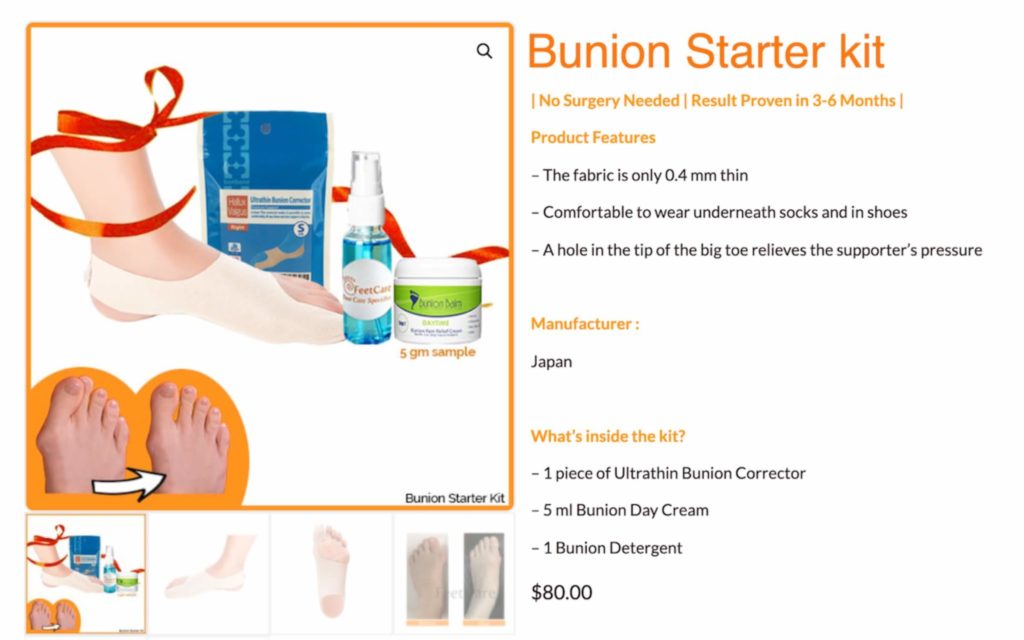 If you don't want to undergo bunion surgery, having a bunion starter kit to start your treatment is essential.
The bunion starter kit features a 3-set product designed for bunion correcting and pain relief. It also helps to prevent your bunion from getting worse. The package contains the following:
Ultrathin Bunion Corrector
Made from 100% medical-grade silicone, the premium quality ultrathin bunion corrector helps to separate, straighten, stretch, and align your toes. It is also stretchable, washable, and reusable.
Made from aloe, tea tree oil, vitamin B6, vitamin E, menthol 3.7%, and arnica montana extract, this cream moisturises bunions and removes the dry and hard skin around them. It provides quick pain relief as the menthol cools your foot and promotes circulation and healing.
The bunion detergent is used to wash the bunion corrector, making sure your bunion corrector remains clean and hygienic for multiple uses.
2. Plantar Fasciitis
One of the most common causes of heel pain, Plantar Fasciitis occurs when a thick band of tissue called the plantar fascia becomes inflamed. This band of tissue runs across the bottom of your foot and connects your heel bone to your toes.
If you have this condition, you'll want to invest in the right supportive insole.
Footwear with stiffer soles and a rocker-bottom (thicker-than-normal sole with rounded heel) tend to offer the most relief. However, you can't rely entirely on your footwear and will need to do regular stretching and motion exercises for long term relief. You can read more about the foot stretches we recommend doing here.
Here are some products which are suitable for Plantar Fasciitis: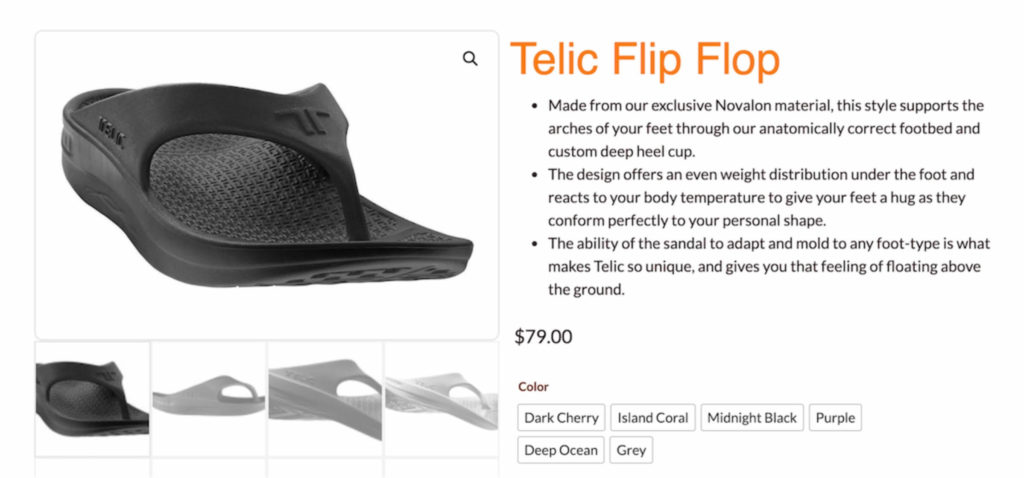 Not only is the Telic Flip Flop suitable for foot conditions like bunions, but they are also a great choice for people who have plantar fasciitis.
Plantar fasciitis can cause intense heel pain. But with its uniquely patented Novalon Technology, the Telic Flip Flops distributes weight and pressure evenly when you walk, stand or sit, resulting in no pressure points on your foot.
This reduces the discomfort that may arise from wearing your footwear, coupled with the stabbing pain caused by plantar fasciitis.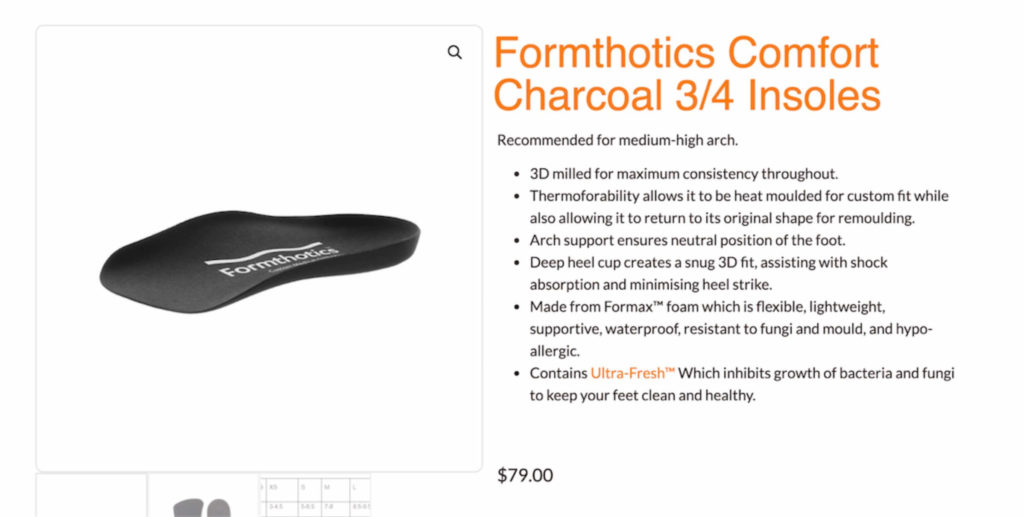 This pair of insoles can be used with different footwear, even hard to fit dress shoes. This is because its thermoformability allows it to mould into a custom fit without compromising the arch support.

If you're worried about sweat and long hours of usage, the Formthotics Insoles contains Ultra-Fresh™ which inhibits the growth of bacteria and fungi. It is also made from Formax™, a material that's flexible, waterproof, and resistant to fungi and mould. This keeps your feet clean and healthy, minimising odours and the risk of developing infections.
The deep heel cup design also creates a snug fit to support your arch and heel, assisting with shock absorption and cushioning. This reduces heel strike and minimises impact on your muscles, joints, and tendons when walking or exercising.
The HOKA Bondi 6 is a great choice for runners. It provides the most cushioning among all HOKA running shoes and has a spacious toe box.
When it comes to plantar fasciitis, you want to look for footwear with stiffer soles and a rock motion as they tend to offer more relief and stability. The HOKA Bondi 6 has a full-length compression moulded EVA midsole that provides soft cushioning to absorb shock over long mileage. Its 4mm heel drop encourages balance and promotes a smooth heel to forefoot transition.
3. Flat feet
Flat feet occur when the entire bottom of your feet (the soles) touch the floor when you're standing. They are also known as collapsed or fallen arches. It's not an uncommon condition, and you don't always feel pain.
When looking for shoes and products for this condition, you'll want those that give you stability in the arch and heel area. People with flat feet tend to experience their feet rolling inward due to the lack of an arch.
Here are a few brands we recommend: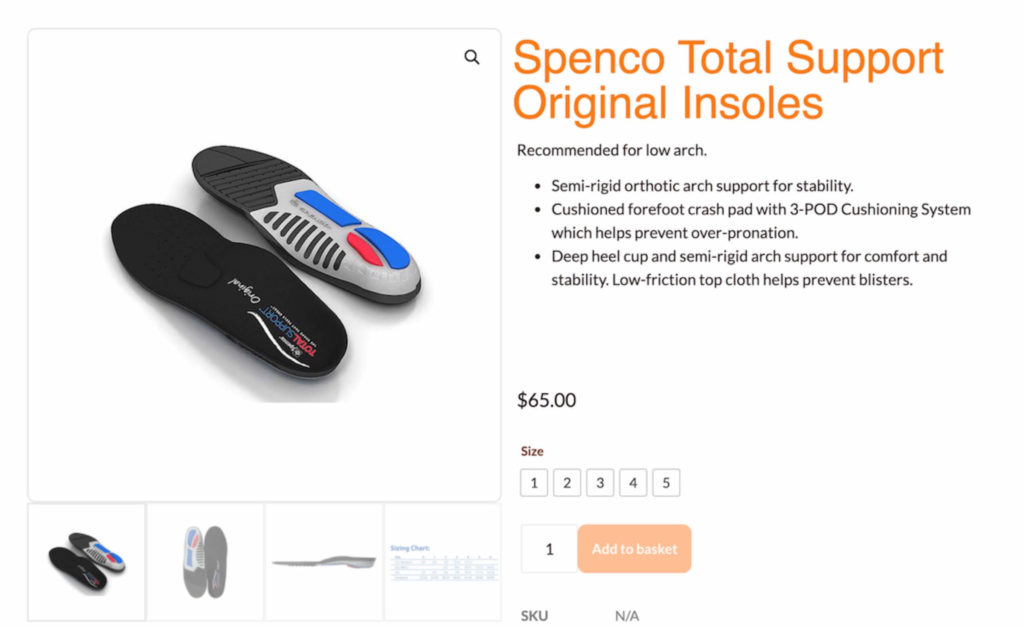 Spenco insoles are great for orthotic arch support as they are clinically designed to reduce shear and friction while improving overall foot comfort.
Its 3-Pod™ technology helps to correct flat feet. The little dome feature just behind the forefoot can also reduce pressure beneath the ball of the foot and provide forefoot cushioning to help relieve pain.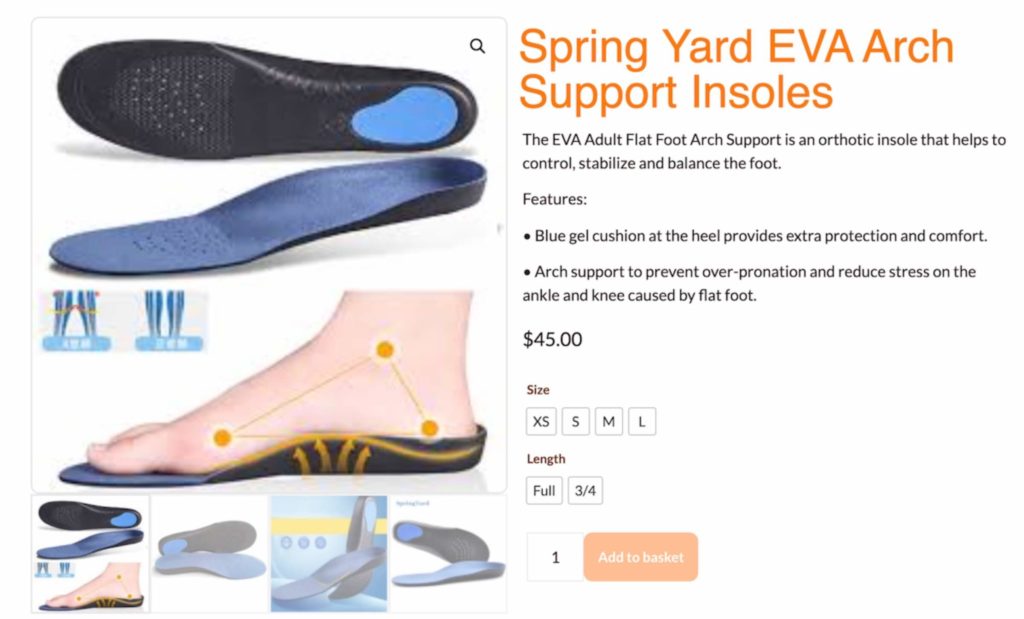 Spring Yard EVA arch support insoles help to stabilise and balance your foot.
If you have a flat foot, it's likely that walking or exercising puts stress on your ankle and knee due to pronation. With its orthotic arch support, this insole prevents overpronation and reduces the pressure of walking.
4. High Arches
When you have high arches, one or both heels are usually tilted toward the middle of your body. This causes foot and ankle instability and can increase the risk of ankle sprains. A high-arched foot is also prone to pronate under certain circumstances.
With a high arch foot, loading stress from walking or standing will be redistributed mainly to the forefoot and heel. This requires an adequate level of under-arch support and midsole cushioning.
If you have this condition, you'll want to invest in midsole cushioning, and shoes or insoles with under-arch support.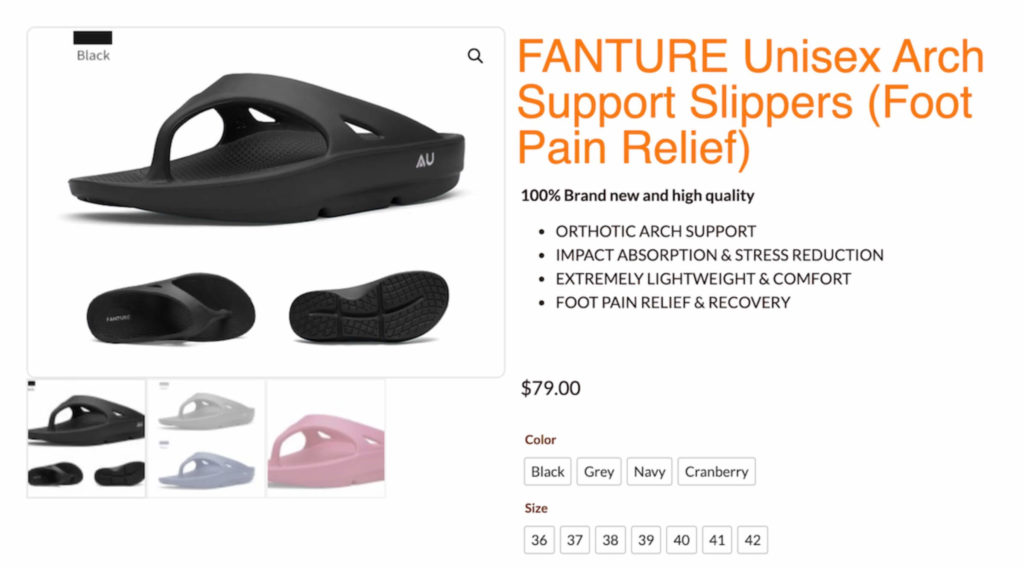 With its unique Fanslite material and AU Relief technology, the Fanture slippers absorb more impact than ordinary flip flops, reducing pressure and tension on the ankles, knees, and feet. In fact, it's said to minimise foot pressure by 20%-34%.
These Fanture slippers also help provide pain relief from foot conditions like high arches, plantar fasciitis, flat feet, bunions, and more.
Here's a table to help you recap the conditions and recommended products we went through:
Need help choosing the right shoes in Singapore for your foot conditions? We'd be happy to help!